It's The Fun Way To See Historic and Beautiful Helena, Montana!
Welcome to Last Chance Tours of Helena, Montana, home of the Last Chance Tour Trains and Trolley. We offer historic tours of Helena aboard open-air tour trains. See the opulent mansion district, marvel at the Cathedral of St. Helena, and roll by our governor's homes. Cruise by a restored miners' village, enjoy the unique architecture along Last Chance Gulch, and catch a glimpse of the Old Fire Tower. It's the fun way to see beautiful and historic Helena! We offer services for individuals, group tours, and school groups.
Our climate controlled Trolley provides shuttle services for weddings, business groups, schools, daycare centers, and other special occasions. We also offer step-on guide services for motor coach tours.
Parking
Due to various construction projects surrounding the Capital Complex area, please allow an extra 15 minutes for your arrival time to the Tour Train. See the map below for the blue highlighted parking locations. Some street parking is also available. All parking is free!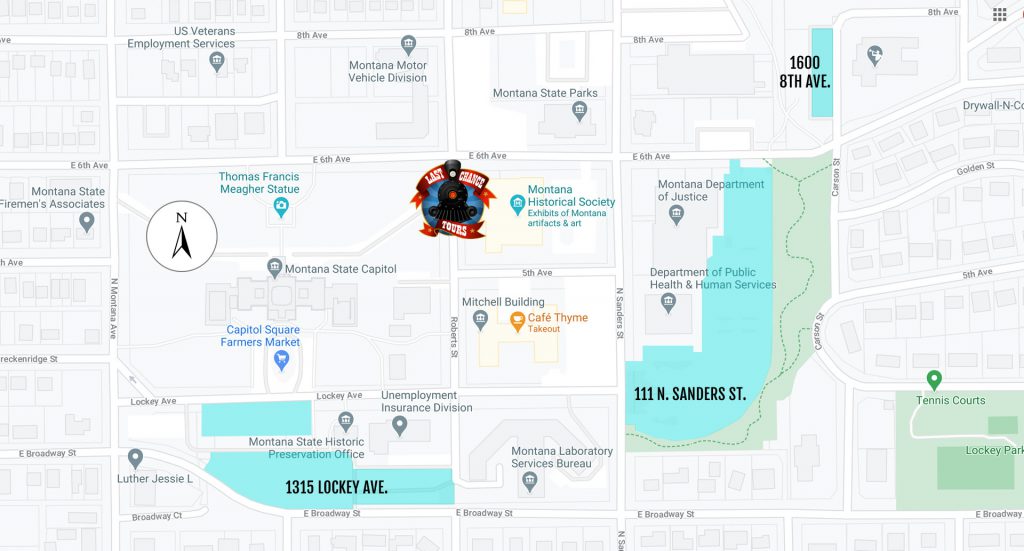 We want to assure you that we will take every precaution possible to ensure that you have a safe and memorable ride. You will have the benefit of our open air train. We sanitize between every tour. You are able to cancel reservations 24 hours prior to your departure date. Let's join together to make it a fun and refreshing summer!