It's The Fun Way To See Historic and Beautiful Helena, Montana!
Welcome to Last Chance Tours of Helena, Montana, home of the Last Chance Tour Trains and Trolley. We offer historic tours of Helena aboard open-air tour trains. See the opulent mansion district, marvel at the Cathedral of St. Helena, and roll by our governor's homes. Cruise by a restored miners' village, enjoy the unique architecture along Last Chance Gulch, and catch a glimpse of the Old Fire Tower. It's the fun way to see beautiful and historic Helena! We offer services for individuals, group tours, and school groups.
Our climate controlled Trolley provides shuttle services for business groups, schools, daycare centers, and other special occasions.

SCHOOL GROUP TOURS IN MAY ONLY
We are looking forward to riding with school groups that visit our Capital City from all over that state as well as our faithful locals. Please note that we will only have one train driver for our pre season tours this year, therefore, school tours will only be offered on:            
MONDAYS, TUESDAYS, FRIDAYS, and SATURDAYS.
Please call 406-442-1023 in advance to schedule your school group tour.
Private Tours may be scheduled on the above days as well.  Please call to book.
TRAIN OPENS TO THE PUBLIC JUNE 3RD.
Parking
Due to various construction projects surrounding the Capitol Complex area, please allow an extra 15 minutes for your arrival time to the Tour Train. See the map below for the blue highlighted parking locations. Some street parking is also available. All parking is free!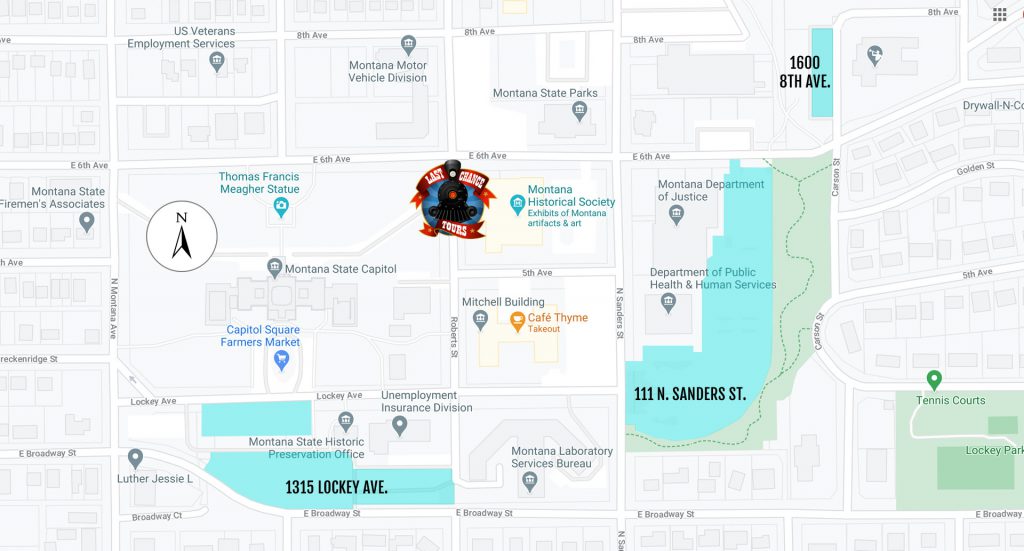 When parking is limited near the Tour Train Depot we are providing shuttle service from the lot located at 1315 Lockey Ave. to the Ticket Office. Follow the signs to the lots where you will find space for additional parking. If you see the sign "Tour Train Pick Up" the service will be provided.